Sara's story: Facing cancer treatment during the holidays

Diagnosed with breast cancer before the holidays, Sara is sharing her story to give hope to others affected by cancer during this time.



3 min. read
Hearing the news that you or a loved one has cancer can be difficult. For people facing a cancer diagnosis or going through treatment during the holidays – typically a time for celebration and cheer – it can be especially isolating and challenging.
For Sara and her family, the holidays are usually filled with traditions like wearing matching pajamas, watching Christmas movies, playing board games and having a turkey dinner with friends. But when Sara was diagnosed with stage 3 breast cancer in August 2013, it meant that the holidays looked a little different that year.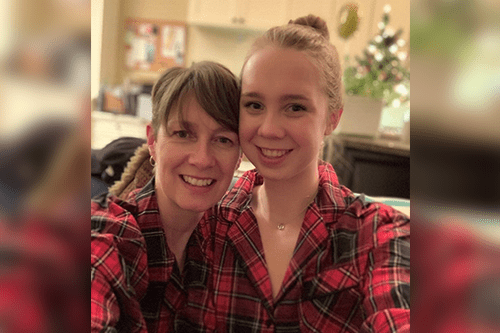 Adjusting to life-changing news  @(Model.HeadingTag)>
After her diagnosis, Sara's life seemed to change overnight. One day she was undergoing tests at her doctor's office, and the next, her healthcare team was laying out an 8-month treatment plan that included chemotherapy followed by surgery, a bilateral mastectomy and radiation.
"It's hard to imagine how significantly a diagnosis can change every part of what's going on in your life – from your work, to your finances, to your relationships and how you see the world," Sara shares.
Like Sara, many people often feel overwhelmed when first diagnosed. It's not uncommon to experience a variety of emotions as you take time to process the news. You may find it helpful to learn more about your diagnosis and treatment options – which is why the Canadian Cancer website provides helpful and accurate information on over 100 types of cancer as well as resources for coping and support.
Connecting with others on similar cancer journeys @(Model.HeadingTag)>
While Sara was surrounded by a loving support system of family and friends, she wanted to connect with others who understood what she was going through. She decided to take part in programs that catered to people affected by cancer. Through yoga, cooking and even a drumming class, she was able to connect with people who could relate to her journey.
"It makes such a massive difference being able to connect with people who understand, who know how to listen and who can answer your questions," Sara shares.
For people like Sara on their cancer journey, joining a supportive community can ease anxiety and help them cope. Canadians can turn to CancerConnection.ca – our online community where those living with cancer and their loved ones can share their experiences and build relationships with others who have been there.
A different holiday season @(Model.HeadingTag)>
With Sara's last chemo treatment scheduled for after Christmas, she knew that the holidays would be different.
Sara's healthcare team had advised her to avoid seeing friends and family since chemotherapy had weakened her immune system, putting her at a higher risk for infection.
"It was difficult not being able to do all the activities we usually did as a family during Christmas," says Sara.
Despite the holidays not being what they usually were, Sara remained positive knowing that her final chemo treatment was just around the corner.
"I was excited because I knew that in the new year, I would be finishing chemo and I was gearing myself up for the last push," she shares.
Creating new traditions @(Model.HeadingTag)>
The next holiday season, Sara and her family had more than one thing to celebrate – she was cancer-free!
To this day, with every year that passes, Sara is reminded of the challenging journey that she faced during the holidays and is more grateful than ever for the opportunity to create new traditions and spend more Christmases with her loved ones.
"Even after 7 years, I still get emotional about my cancer journey," she shares.
---
As the COVID-19 pandemic continues to affect Canadians, many families will be spending the holidays apart this year. During this time, those affected by cancer may feel especially isolated – which is why it's more important than ever to show them that they're not alone this holiday season.
Help us fund groundbreaking research so we can better detect, diagnose and treat Canadians with cancer and ensure that people affected, including families and caregivers, get the support they need during the holidays and all year round. Together, we can show that love is stronger than cancer.