Kathy's story: To be happier, healthier and stronger in the face of cancer
Learn how Kathy found strength on her cancer journey through the love of her family and compassionate support from the Canadian Cancer Society.
3 min. read
A cancer diagnosis can change everything – for the person with cancer, as well as those closest to them. When Kathy heard the words, "you have cancer," her first concern was her family. How would her husband and son manage without her? How could she make the most of the time she had left?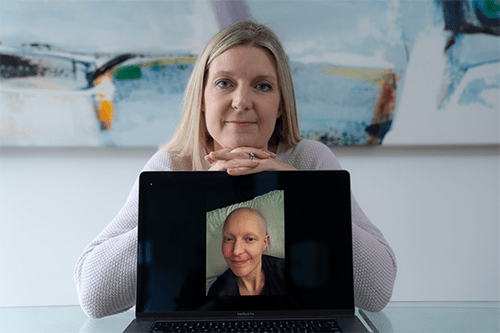 When a person is faced with a life-threatening diagnosis, they often realize what's most important to them. For Kathy, it was the love of her family and every moment she gets to share with them – from the ordinary moments like reading her son his favourite story to the extraordinary ones, like seeing his face light up when he opens presents on Christmas morning.
Sitting in her doctor's office the day she was diagnosed with an aggressive type of breast cancer, Kathy wasn't sure how many more moments she would get.
While her cancer journey was challenging, Kathy shares how the love of her family and compassionate support from the Canadian Cancer Society were there to help her every step of the way.
Making positive changes @(Model.HeadingTag)>
After the initial shock of her cancer diagnosis, Kathy and her husband sat down on the sofa, held hands, and made a promise that they wouldn't let Kathy's diagnosis define her or their family.
"We made a pact that this experience would make us happier, healthier and stronger," shares Kathy.
So, the couple turned to our website for information on making healthy choices. They began eating better, sleeping more, finding balance in work, exercising and managing stress. Kathy even started running again – something she used to love to do. Taking control of their health allowed Kathy and her family to feel more positive and hopeful about the future.
"Exercise made a huge difference for my well-being throughout my treatment and beyond," shares Kathy. "I'm so grateful for the information and support I received from the Canadian Cancer Society – it will help me sustain these new lifestyle changes in the years to come."
Finding ways to cope @(Model.HeadingTag)>
For Kathy, her cancer treatment was both physically and emotionally challenging. She found it difficult to cope with treatment side effects.
During this time, Kathy leaned on her family for love and support. When she had questions about her treatment, she turned to our nationwide support system, including our toll-free Cancer Information Helpline.
Kathy's not alone in finding the support she needed through this important service. With a caring voice on the other end, our cancer information specialists provide a shoulder to lean on for thousands of people affected by cancer and their caregivers every year. Having a trusted and compassionate resource to turn to can make all the difference.
"The love of my family and the support I received got me through," says Kathy.
Love matters most @(Model.HeadingTag)>
Kathy's cancer journey has given her a new appreciation for how precious life is. Now cancer-free, her priorities are her loved ones and her health.
"I'm grateful that I get to spend the upcoming holidays with my family, snuggling on the sofa with my husband, reading our son bedtime stories, and seeing the little guy's excitement on Christmas morning," she shares.
"It's the moments like these that show that love matters most of all – in fact, I've learned that it's the only thing that gets us through a difficult journey."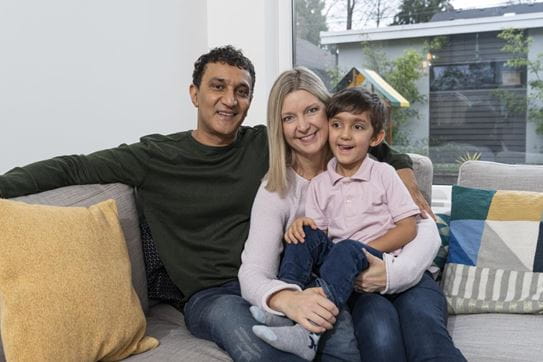 We share in Kathy's powerful message of love. With nearly half of Canadians expected to be diagnosed with cancer in their lifetime, cancer affects us all. But this holiday season, we can come together to show our love and support. Together, we can show that love is stronger than cancer.
Help us fund groundbreaking research and a nationwide support system that's there for Canadians affected by cancer when they need us most.