"You can do this." – Facing breast cancer with positivity and hope
When Coral was diagnosed with breast cancer, she stayed positive and hopeful with the help of her loved ones and co-workers at CIBC.
3 min. read
Coral has always been the person that people came to when they needed support – at home with her daughter and loved ones, and around work. She's a positive force, willing to lend a hand to help others.
When she was diagnosed with breast cancer, she didn't want this to change.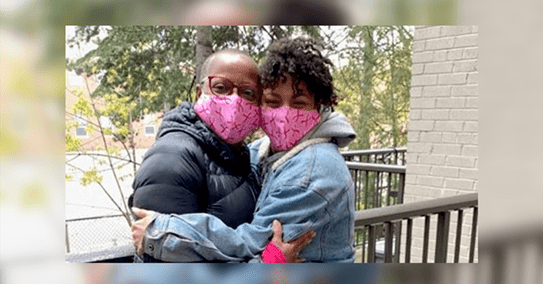 Facing breast cancer with a positive attitude @(Model.HeadingTag)>
In 2018, Coral went to see her doctor because she was experiencing some pain following a small incident on public transit. Around this time, she also happened to have an appointment for a routine mammogram (a test to screen for breast cancer).
Shortly after her visit, she received a call to ask her to come back for more tests because through the mammogram they noticed a lump.
"I went for tests after tests," shares Coral. "I thought this was related to the accident on the bus. But, then I was told I would have to have a lumpectomy."
Determined to remain optimistic, she thought to herself, "the doctors will take out the lump and then I'm good to go. I've got this. No problem."
Weeks after her surgery and just before her follow up appointment, she received the news that they weren't able to remove all of the cancer and she would now need another surgery and would have to start chemotherapy and radiation treatment.
"I lost it when I heard the news because I really wasn't expecting to go through all of this," says Coral. "At the same time, I thought, 'you know what? I'm going to have to just trudge through this with a positive attitude and I'll be okay.'"
Feeling supported by those around her @(Model.HeadingTag)>
When Coral shared her diagnosis with her daughter, it was an emotional moment.
"We decided to deal with this [diagnosis] the best way we can and pretend like nothing's wrong. I regretted that choice a little when my daughter still expected me to do chores around the house," jokes Coral.
Her daughter helped her maintain a sense of normalcy – something she valued at work too. Throughout her treatment, Coral continued to go to work and for a while, she didn't tell her co-workers at CIBC.
"It made me happy to go into work even when I wasn't feeling so great from treatment. Being able to continue to do what I do best was key to my recovery," shares Coral.
Eventually, she decided it was time to let her co-workers know. In response, she experienced an outpouring of support – even hearing from former colleagues and discovering a group formed by past and present CIBC employees called, the Bosom Buddies.
"I believe 50% of what got me through treatment was my daughter and the other half was the positive environment at work," reveals Coral.
Spreading positivity and hope @(Model.HeadingTag)>
Having worked for CIBC for 21 years, Coral has been a long-time supporter of the breast cancer cause through the Canadian Cancer Society CIBC Run for the Cure – an event that CIBC has proudly sponsored since 1997!
Today, Coral is 2 years cancer-free and taking part in the CIBC Run for the Cure has greater meaning to her now. It's a reminder that there's a community of people behind her – and every Canadian affected by breast cancer.
As one of the 2021 campaign heroes, she has appeared in advertising online and on billboards across the country. She hopes when people see her face and hear her story, it sends a hopeful message.
"I want people to think positive. As bad as you may feel some days, try to look forward," says Coral. "Empty it all out – all the negative thoughts and energy. Live your life the best way you can. You can do this."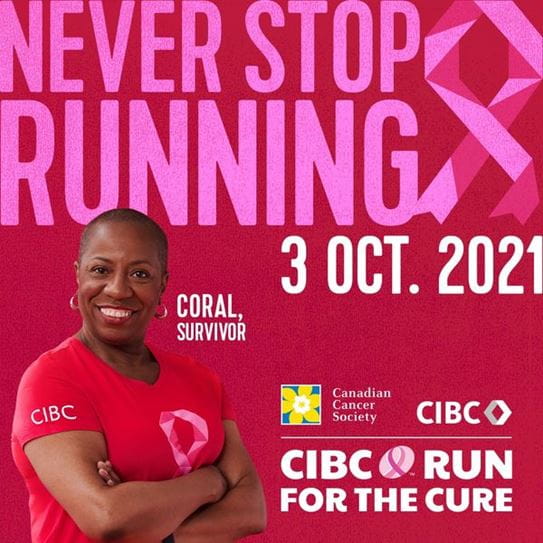 ---
October is Breast Cancer Awareness Month and you can join us in making a difference for Canadians affected by breast cancer, like Coral.
It's not too late to show your support for the CIBC Run for the Cure!
Donate to help fund groundbreaking research and a national support system that ensures people affected by breast cancer can get the support they need.
Create your own fundraiser and encourage your family and friends to help change the future of breast cancer.