May is leave a legacy month
"Giving back to society is crucial. Unfortunately, nearly half of Canadians will experience a cancer diagnosis in their lifetime, and I cannot think of any more important health issue to support and encourage you to do the same. This is my story."
2 min. read
Bretta's Story @(Model.HeadingTag)>
In June 2013 I was diagnosed with a head and neck cancer (HNC), specifically advanced tongue cancer. My treatment was challenging and included surgery, radiation (7 weeks) and rehab interventions (10 months). I experienced many of the side effects common to HNC - burning from radiation, serve dry mouth, loss of taste, fatigue and difficulty eating. Some of the side effects are temporary but others continue. In addition to my wonderful family support system, I received amazing comfort from the staff and volunteers of the Canadian Cancer Society with links to support, information, and community resources. This made a significant difference to my recovery.
My career began in Saskatchewan in the public health system followed by many years in Alberta's health system at the regional and provincial levels in the areas of population health and prevention including cancer prevention, screening and innovation. I have been a CCS volunteer for over ten years and currently have the privilege to serve as both a national and a provincial board member with CCS. I am also an active volunteer with the Alberta Health Services Cancer Strategic Clinical Network Core Committee.
Cancer has had a significant impact on my family starting with my mother who died of leukemia when I was just four years old. The difference in survivorship from that time to now is remarkable and a result of myriads of research and clinical trials in Canada (and elsewhere) of which CCS is a major contributor. CCS initiatives impact real lives! Further, the CCS research granting is internationally recognized for its high-quality review process to support the best possible research.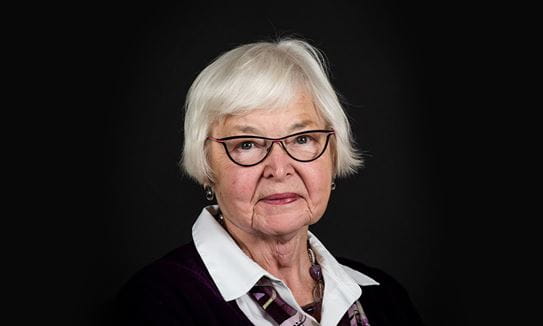 Giving back to society is crucial. Unfortunately, nearly half of Canadians are expected to experience a cancer diagnosis in their lifetime. I cannot think of any more important health issue to support and encourage you to do the same. CCS is the only cancer organization that focuses on all types of cancers.
Selecting a charity for a planned gift is a very important and thoughtful decision. For me the criteria that I considered in choosing where my gift goes is that the organization is:
highly regarded and respected for its best practice and evidence-based approach to programming and research
stable and committed to administrative efficiency and a continuous improvement culture so donor money is not wasted
Flexible in supporting the donor's interest
Collaborative and innovative – seeking opportunities with others (charities and governments) to leverage and optimize donations
Involved in translating learning and knowledge to a Canada wide network
I am pleased that CCS met all these qualities and am pleased to be a planned giving donor to CCS. I encourage you to trust your legacy to the Canadian Cancer Society.
For more information, please contact:

Canadian Cancer Society, National Office
55 St. Clair Avenue West
Suite 500, Toronto, Ontario M4V 2Y7
E: kelly.zorich@cancer.ca
T: 1-888-405-7664