Meet 3 young scientists championing cancer research across Canada
See how the Canadian Cancer Society raises awareness about cancer research with the help of young scientists on our Research Information Outreach Teams.
4 min. read
Each and every day, we're looking for new ways to prevent cancer, find it early, treat it more successfully and improve the quality of life of people living with it. As our knowledge grows and advancements are made, we move closer to realizing our vision of a world where no Canadian fears cancer.
While we have made a lot of progress, many people wonder why we haven't found a cure yet. Curing cancer isn't easy because cancer isn't just one disease – it's more than 100. Raising awareness about cancer and cancer research is important to all of us at the Canadian Cancer Society because with nearly half of Canadians expected to be diagnosed with cancer in their lifetime, we all have a reason to care about cancer.
This is why groups like the Canadian Cancer Society Research Information Outreach Team (RIOT) are so important. Spanning across 7 different communities in Canada, members of RIOT help raise awareness and educate the public about the progress and promise of cancer research. Members of RIOT are university students, community members and young scientists volunteering their time to help change the future of cancer.
Meet Bre-Anne, Jessica and Zeinab – three passionate women in science and members of RIOT – to see why they're motivated to share their knowledge of cancer research.
Making meaningful connections: Bre-Anne @(Model.HeadingTag)>
Growing up, Bre-Anne always had an interest in science, but it wasn't until the last year of her undergrad that she fell in love with research. Her passion for research motivated her to complete her PhD after which she then became a research associate leading a breast cancer research program at the University of Windsor.
Since starting her graduate degree, Bre-Anne was involved in many community outreach programs, so when she learned about RIOT, she wanted to join.
"Having the opportunity to join a team with other individuals who share the same passion is a great way to increase our impact in cancer research and drive new ideas forward," says Bre-Anne.
Our outreach events bring together dedicated members of the research community, but they also connect people at all stages of the cancer journey. For Bre-Anne, meeting with cancer survivors and hearing about their experiences helps put her research in perspective in a meaningful way.
"You realize the impact cancer research has on the community and brings home the importance of the work we're doing – both in the lab and out in the community," Bre-Anne explains.
Spreading hope: Jessica @(Model.HeadingTag)>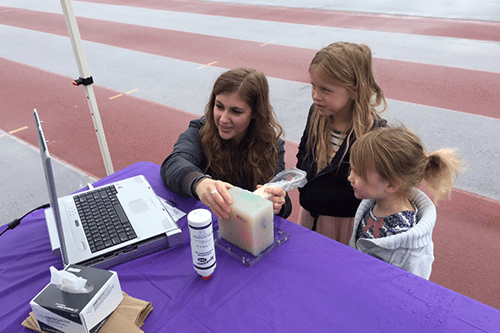 After completing her undergraduate degree at Queen's University, Jessica decided to pursue a PhD in biomedical engineering at Western University with a focus on how using 3D ultrasound images can improve treatment of gynecological cancers.
For Jessica, RIOT combined her two passions: biomedical engineering and a desire to help others.
"We're able to help the public better understand cancer and cancer research," says Jessica.
For many people, cancer information and research can be confusing and overwhelming. Having knowledgeable and passionate volunteers, like Jessica, out in the community to raise awareness and share trusted information can make all the difference to someone affected by cancer and their loved ones.
"I see the hope that they have for the research that we're doing. Those moments continue to inspire and motivate me."
Inspiring future cancer researchers: Zeinab @(Model.HeadingTag)>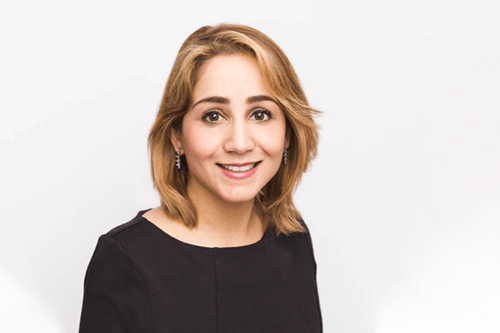 In 2011, Zeinab went to Montreal to continue her master's in biotechnology at McGill University and it's during that time that she became fascinated with cancer research. Today, she's continuing her studies as a postdoctoral researcher where she's focusing on novel drug treatments for glioblastoma – the most aggressive type of brain tumour in adults.
"Cancer research gives me hope to think that one day, my work might help improve a cancer patient's life expectancy," explains Zeinab.
Understanding the impact that cancer research can have, Zeinab wanted to help educate others and joining RIOT provided her with the opportunity to make a difference for Canadians affected by cancer.
By sharing exciting research updates and insights with community members, including many youth and children, Zeinab and all our RIOT members play an influential role in inspiring the next generation of scientists – maybe even motivating some to become cancer researchers one day!
"There have been many moments that I felt happy and proud to be a member of RIOT," says Zeinab. "But my favourite has to be when a student came up to me after a presentation and expressed her interest in becoming a scientist!"
---
Like Bre-Anne, Jessica and Zeinab, we share in their enthusiasm for championing cancer research and the hope it brings. Thanks to research, today, 63% of Canadians diagnosed with cancer will survive at least 5 years after their diagnosis. This is a huge improvement over the 1940s when it was about 25%!
As an organization committed to changing the future of cancer for the approximately 220,400 Canadians diagnosed with cancer every year, support for research matters more than ever. You can help our best and brightest researchers continue to make discoveries that could change and save lives.