Holiday coping tips from Canadians affected by cancer
Navigating the holidays after a cancer diagnosis can be difficult. Find coping tips and advice for navigating the holidays season from people who have been affected by cancer.
3 min. read
We understand that the holiday season may be especially challenging for those affected by cancer, experiencing grief from the loss of a loved one or missing a familiar way of living and working.
Everyone copes with feelings of stress, sadness and grief differently. But it can help to share experiences and find support from those who understand. That's why we asked members of CancerConnection.ca – our online community for people who have been affected by cancer – to share how they've navigated past holidays during difficult times. From these caring Canadians, find supportive tips, words of encouragement and advice to cope with a holiday season unlike any other.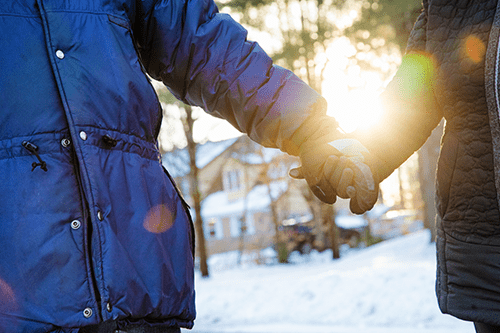 Tip #1: Focus on yourself 
"No one knows your energy level or state of well-being like you – so listen to your body and act accordingly. Others will appreciate you being honest."
"Look after yourself...your health is important."
"The temptation to pull the covers over my head and say "no", is strong some days and at those times, I give myself permission to be the Grinch."
"Be flexible. Even if plans have been made, you may have to reschedule or change them depending on how you or your loved one is feeling that day."
Tip #2: Don't overdo it and ask for help when you need it
"Do what you are able to – don't overdo it and delegate when necessary. Put up lights, decorate, bake – do what makes your heart feel full and what you enjoy."
"Don't be afraid to ask for help. Support from family and friends can give comfort, and they may have good ideas for how to manage stress and practical concerns."
"Try not to feel guilty about what you can't or don't feel motivated to do. We can be our own worst enemy. If you wouldn't expect something from others, then don't expect it of yourself."
Tip #3: Seek out connection when you need it
"Stay connected. Don't sink into isolation."
"Have connections when you feel like it and enjoy alone time too. Just be in the moment and find enjoyment in the small things."
Tip #4: Don't put too much pressure on the holidays
"Give yourself permission to also feel not ok – we don't all have to have the "magical holiday" feeling – for some, it's just getting through day by day."
"Give yourself permission for things to not be normal this year."
Tip #5: Hold on to cherished memories
"I love to listen to music and reminisce about Christmases from when I was much younger."

Tip #6: Exercise to relieve stress and to stay healthy
"Just walk! Walk off your stress."

Tip #7: Give yourself the space to feel and experience your emotions- from grief and sadness to joy and hope
"Remember there's no time limit when it comes to grief. Give yourself all the time you need."
Inspired by the personal, heartfelt messages from our community? Know that this compassionate online support system is here for anyone affected by cancer and their caregivers – now and all year round.
Join CancerConnection.ca, where people affected by cancer find comfort and support through their shared experiences. With the help of the caring members of this community, we can ensure no one has to face cancer alone.