One man, two wheels and an epic journey across Canada in support of the Canadian Cancer Society
Vincent cycled cross Canada to raise funds for the Canadian Cancer Society after his friend was diagnosed with stomach cancer.
2 min. read
Cancer can be an emotional journey – not only for the person facing the diagnosis, but for their loved ones too. Hearing that someone you care about has cancer can be difficult. For Vincent, he initially experienced feelings of sadness, anger, frustration and denial. But soon after, those feelings were replaced with hope and a determination to support his friend Silvia.
A personal mission to show his support @(Model.HeadingTag)>
Vincent never expected to travel across Canada on two wheels. But after Silvia was diagnosed with a rare form of stomach cancer, Vincent turned to the Canadian Cancer Society's online fundraising program to find a way to show his support and make a difference. Through the program, he was able to organize his own personal fundraising event. So, he bought a bike and began cycling from Nanaimo, British Columbia to Halifax, Nova Scotia as a way to raise awareness and funds.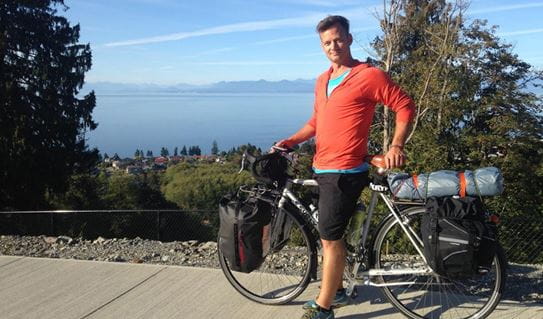 Vincent's ambitious ride was his way of supporting Silvia and along the way, he was also able to raise funds that would give hope and change the lives of other Canadians affected by cancer.
"The journey was physically, mentally and emotionally challenging," recalls Vincent. "But I'm pretty proud of what I've accomplished."
Unfortunately, a few days into his ride Vincent learned that Silvia had passed away. He was determined to finish his cross-country journey in Silvia's honour and 55 days later, Vincent reached Halifax.
A meaningful journey with an unmeasurable reward @(Model.HeadingTag)>
With the support of family and friends, he raised $4,000, which will help fund Canada's most promising cancer research as well as vital support services for those living with cancer and their families.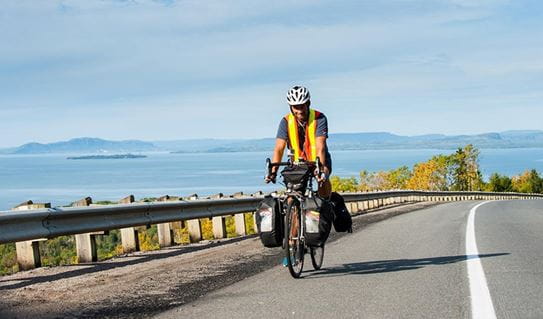 "I would encourage others to organize their own independent fundraisers," says Vincent. "Supporting a national organization that is community-based was so important for me on my journey."
Like Vincent, organizing your own fundraiser can be a meaningful way to honour someone affected by cancer in your life. It can also be a way to give back for your birthday or a special occasion. No matter your reason, our fundraising program lets you decide when your event begins, what it will be and you can even designate the funds you raise to a specific area of cancer research or support service that's close to your heart.
Join a community of people driven to make a difference by hosting your own fundraiser today.