Finding support and community
Nathalie found invaluable information and emotional support during her breast cancer diagnosis thanks to support programs.
3 min. read
The Canadian Cancer Society (CCS) works to support the 1 in 8 women expected to be diagnosed with breast cancer in their lifetime by helping people live longer and enhancing their quality of life. For Breast Cancer Awareness Month, Nathalie Breton shared her story of how she was able to find invaluable information and a new sense of community during an uncertain time.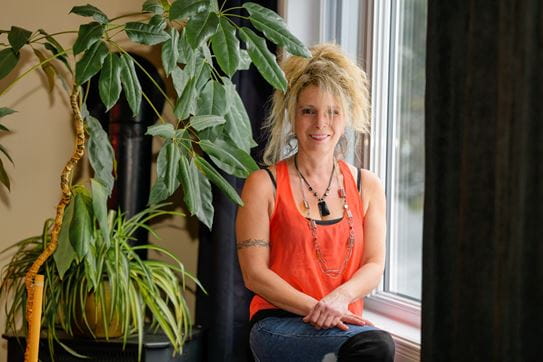 Finding support and reassurance on cancer.ca @(Model.HeadingTag)>
After Nathalie was diagnosed with cancer in 2021, she had to undergo a painful sentinel lymph node biopsy. This left her with many questions about breast cancer and treatments. She wanted to make sure she felt comfortable with any other tests that were recommended to her.
Nathalie couldn't get the answers she needed from her medical team and felt she didn't have any decision-making powers. This included not having the ability to discuss her options and treatments with doctors. She eventually visited the Canadian Cancer Society's website, cancer.ca, where she found valuable information in plain language. Nathalie was also able to speak to a cancer information specialist. It was a positive experience for Nathalie who shared how she felt: "I was validated, reassured, and I felt that I was being heard and had the right to ask questions."
Through your donations, CCS is able to provide the highest quality of cancer information to all Canadians. Natalie found information on cancer.ca to help her stay informed and empowered.
Cancer.ca is a goldmine of information in plain language. And if I was able to enjoy such informative and clear reading and even have someone informed to listen to me on the other end of the line, it's thanks to countless donations that make it possible to offer so many support services.
Finding community and a home away from home @(Model.HeadingTag)>
As part of Nathalie's treatment, she needed to spend time in Montreal, receiving radiation therapy. When looking for a place to stay, she learned about the Jacques-Cantin Lodge. The Jacques-Cantin Lodge and other cancer lodges are affordable homes away from home for people who need to travel to receive cancer treatment. They offer social and emotional support through programs and activities and are a place where people with cancer and their families can meet people who understand what they're going through.
Nathalie made a memorable arrival at the lodge when she brought a printer, scanner, and office supplies with her so that she could work when she had the energy. Nathalie is adventurous and high energy, but at the lodge she found a place where things moved slower, and she could find a sense of community among caring professional people.
"For a month, I was able to witness the generosity of a whole bunch of people. The staff were sharp, present, and we talked about all kinds of things. I got out of my slump. I walked to my hospital appointments. It was a bubble of slow living, of hearing our cook singing in the kitchen, of chatting with the receptionist. I was able to let go and get a new lease on life."
Your support during Breast Cancer Awareness Month can help change the future of breast cancer in Canada and make sure that in the future people like Nathalie find the support they need. When they need it.