Living life to the fullest: Sylvain's cancer journey
Find out how research funded by the Canadian Cancer Society is saving lives and making a difference for people like Sylvain.
2 min. read
As a teenager in the mid-90s, Sylvain loved spending time outside. A lifeguard at his local swimming pool and a passionate baseball fan, it wasn't unusual for Sylvain to spend long days under the summer sun. 10 years later, a friend noticed a mole on the back of his right shoulder. By 2006, the mole had grown abnormally large and thick, so Sylvain went to the hospital to get it checked out.
A surprising diagnosis @(Model.HeadingTag)>
In February 2006, when Sylvain received confirmation that his mole was stage 3B melanoma (skin cancer), his first reaction was to laugh. How could a 27-year-old get cancer? Even more, skin cancer? But during all those years he spent outside, Sylvain hadn't put on enough sunscreen and hadn't protected himself from UV rays.
The fact is, there's no safe way to sunbathe. Tanning beds and lamps give off UV rays – just like the sun. Tanned skin is damaged skin. Once the tan is gone, the damage remains.
Sylvain was hopeful that surgery combined with exercise and dietary changes would allow him to overcome the disease and return to life before his diagnosis. But 6 months later, Sylvain received difficult news – his doctor informed him that all he could offer was palliative care. Sylvain's last option was to take part in a clinical trial to help treat his cancer.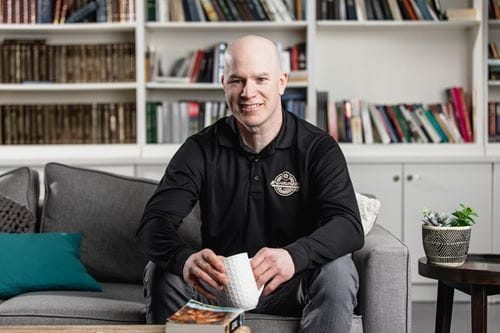 The life-saving impact of research @(Model.HeadingTag)>
At the time, treatments were not yet available in Quebec, where Sylvain lived, but there was a clinical trial in the United States. Supported by his parents, Sylvain travelled back and forth to Washington, D.C. for over 5 years to undergo very aggressive treatments – treatments without which he would not have survived.
"My chances of surviving 6 months were 1% in 2007 when I started the clinical trial," Sylvain shares. "But I'm a living example of the impact of research."
Refusing to let his cancer define him @(Model.HeadingTag)>
Although the clinical trial extended his life, Sylvain's cancer has spread several times over the past 15 years – metastases between the mediastinum and the lungs, in the neck, in the liver and to the brain. From his experience, Sylvain learned to live life to the fullest and enjoy every moment.
Since nearly 65% of melanoma cases could be prevented by protecting yourself from the sun's ultraviolet rays, Sylvain is working hard to change the future of cancer and educate young people about the importance of protecting themselves from the sun. Since 2006, he has acted as a volunteer, speaker, ambassador and spokesperson for the Canadian Cancer Society and raises funds to support research and prevention programs.
"I got involved with the Canadian Cancer Society to keep myself alive," shares Sylvain. "I could have prevented skin cancer by protecting myself when I was young – which is why I now educate young people about the importance of sun protection. The invincibility that I believed in when I was young does not exist."
Every year, the Canadian Cancer Society Daffodil Campaign rallies Canadians to support and remember those affected by cancer. Now more than ever, the daffodil's sunny symbol serves as a meaningful reminder for us to come together and look ahead to brighter days.
Thanks to your support of our Daffodil Campaign, we're funding game-changing cancer research that saves lives like Sylvain's. This spring, help us make a meaningful difference for people affected by cancer and send a powerful message that when daffodils bloom, hope grows.