Running 1000 kilometres for cancer research
Learn how a cancer survivor raises funds for cancer research while remembering and honouring the loved ones he's lost.
3 min. read
Being given a second chance at life is the motivating force behind everything Patrice does. As someone who has lost many of his loved ones to cancer, he considers himself lucky to be a survivor.
Throughout his life, Patrice had always been athletic. But after his cancer journey, he took on his biggest challenge yet – running more than 1,000 kilometres to raise funds for the Canadian Cancer Society and spread awareness about the importance of living a healthy lifestyle.
Learn how this member of the Ilnu community from Mashteuiatsh, near Roberval, Quebec, was inspired to put on his running shoes to change the future of cancer.
Experiencing unusual fatigue @(Model.HeadingTag)>
In 2014, Patrice, then 52, noticed that even the slightest physical exertion caused him to become very tired. As an avid runner, it was unusual for Patrice to feel this way after exercise and especially during his daily life. He decided to go to the hospital to find out what was going on. After a series of tests, he was diagnosed with rectal cancer.
Although hearing the words "you have cancer," is a difficult experience, Patrice vividly remembers that those words did not affect him as much as those around him.
"My father, two of my sisters and my mother have been affected by cancer," he shares. "Having gone through that experience, they found it difficult to hear the news. But I didn't let it get to me. I looked at this as a new challenge in my life – and I was ready to face it."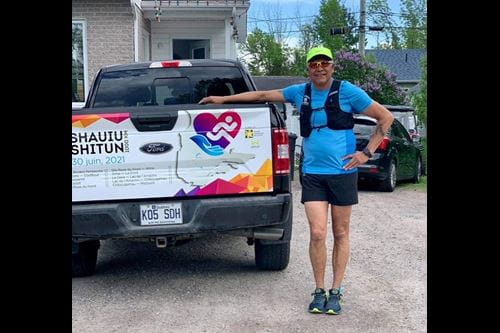 Running to escape @(Model.HeadingTag)>
A few months after being diagnosed with cancer, Patrice began chemotherapy and radiation treatments. Used to running regularly and over long distances, Patrice didn't want to give up his favourite sport – even during treatment. Although it was challenging at times, staying active helped him cope throughout his cancer journey.
"I thought if I kept running it would help me get through it," Patrice shares. "It was harder, of course, but it helped me stay positive."
In December 2014, Patrice underwent surgery, which was more difficult than expected. Fortunately, the doctors were able to remove all the cancer cells and confirmed that his cancer had not metastasized.
A crazy idea to make a difference @(Model.HeadingTag)>
In June 2015, while Patrice was recovering from his cancer treatments and operation, he had an idea that would allow him to challenge himself as a runner while supporting the cancer cause. He planned to run the 345 kilometres that separated Mistissini, a Cree community in the north of Quebec, to Mashteuiatsh, near Roberval, Quebec – while raising $1,000 for the Canadian Cancer Society.
Motivated by his own cancer experience and others facing a cancer diagnosis, Patrice easily completed this challenge – covering the 345 kilometres and exceeding his fundraising goal.
After this accomplishment, Patrice had the idea of launching another challenge even more ambitious than the last. He would run more than 1,000 kilometres between the communities of Uashat Mak Mani-utenam – where his close friend Bruno lived – and the Cree town of Mistissini in northern Quebec.
"Bruno thought it was a good idea, but a crazy one," Patrice shares.
Originally scheduled for 2020, the Uitshauiu uitshitun (Running to Help Each Other) Challenge was postponed for the summer of 2021 due to the COVID-19 pandemic.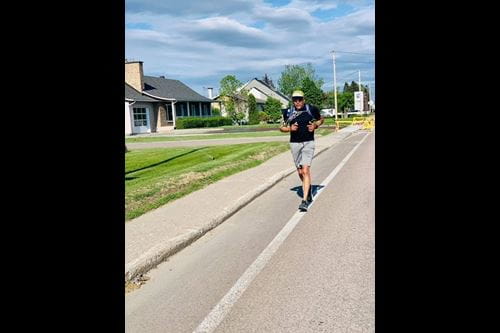 More motivated than ever @(Model.HeadingTag)>
This year, Patrice planned to start his challenge on June 21, 2021 – National Indigenous Peoples Day. Bruno would be there to support Patrice during his journey, driving alongside him to ensure he was safe and providing food and water. But in March 2021, Bruno was diagnosed with cancer and passed away just two months later.
"Until his last moment, Bruno was telling his wife that he was going to be there beside me, even though he was sick. Now, he will still be here beside me on this journey, but in a different way," Patrice shares. "Remembering all the people I've lost to cancer is what pushes me even more – and what motivates me to face this big challenge."
---
We know that cancer disproportionally affects Black, Indigenous and people of color. With nearly half of Canadians expected to be diagnosed with cancer in their lifetime, it's more important than ever to continue our efforts to fund innovative and inclusive research projects that save lives. It's for the same reason that Patrice, who has been in remission since 2019, will run more than 1,000 kilometres from June 21, 2021 to June 30, 2021 while raising funds for the Canadian Cancer Society. As of July 2021, Patrice has completed his challenge and raised over $75,000!
"It's important to give to the Canadian Cancer Society because so many Canadians have someone close to them who has been affected by cancer," Patrice shares. "We must not allow ourselves to give up hope."
Feel inspired by Patrice's passion? You can fundraise to make a difference too.