With Breast Cancer Awareness Month approaching, CCS continues offering wig and breast prosthesis services to all Canadians.
2 min. read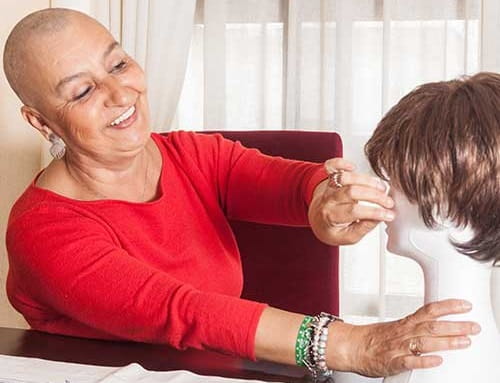 As we approach Breast Cancer Awareness Month this October, it's an important reminder for those facing breast cancer that there are resources available to help you through some of the emotionally challenging side effects of treatment.
On average, about 75 Canadians will be diagnosed with breast cancer every single day. It's estimated that 1 in 34 Canadian women will die from it, making it the second leading cause of cancer-related death among Canadian women.
Although we've made considerable progress over time, there are still challenging side effects for those undergoing treatment.
Losing hair can be upsetting. Hair loss is a very visible side effect and can affect your self-confidence. For some, losing their hair is the hardest part of cancer treatment. For those who undergo a mastectomy or breast-conserving surgery to treat breast cancer, it can be difficult to adapt to the changes to your body.
Temporary solutions are available to help you feel more like yourself after a breast cancer diagnosis. Wigs can help you regain a sense of self if you experience hair loss due to treatment. A breast prosthesis, while not medically necessary, gives a breast a more natural shape and can be used while waiting for or deciding about or as an alternative to breast reconstruction.
The Canadian Cancer Society's (CCS) wig and breast prothesis services are available to people in Canada, no matter where you live, with just a simple call or click. Anyone in need simply fills out our online form and a member of our team will help them find the right breast accessory or wig. We will arrange delivery or curbside pick-up, depending on the location. Breast accessories are yours to keep and wigs can be kept for as long as you decide.
With your support, we will continue to invest in new cancer research as well as services and programs that guarantee people in Canada affected by breast cancer get the support they deserve.
To support the wig and breast prothesis services, visit cancer.ca.