Bobbi Jo Beitz shares her story of how CIBC Run for the Cure makes a difference for people living with or beyond breast cancer.
2 min. read
The Canadian Cancer Society CIBC Run for the Cure began as a powerful vision to make a difference for people living with or beyond breast cancer.
It all started in 1992 with a group of passionate volunteers who believed in the transformative power of community. The group brought together approximately 1,500 people in Toronto's High Park and raised $85,000 for the breast cancer cause.
What started as a local event quickly gained momentum across the country, uniting and inspiring people, families and communities. Today, the CIBC Run for Cure is the largest single-day, volunteer-led event in support of the breast cancer cause, having raised more than $493 million since it first began more than three decades ago.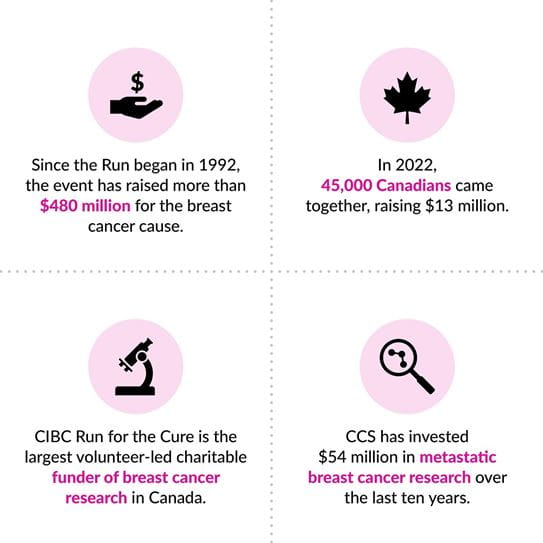 The Run stands as a testament to the power of collective action. Year after year, people lace up their shoes each Fall to help change the future of breast cancer, including Bobbi Jo Beitz.
Bobbi Jo was active all her life, so she could never have imagined the journey she would begin because of numbness she felt in her right heel. What she had assumed to be a sciatic nerve issue would lead to the discovery of a 6.8-centimetre mass in her sacrum and a 2.8-centimetre lump in her left breast. Bobbi Jo was diagnosed with metastatic breast cancer (MBC).
Wanting to do her part to raise awareness to the breast cancer cause, Bobbi Jo signed up to in the CIBC Run for the Cure.
For Bobbi Jo, Run Day is marked as an accomplishment in her books. "I think just being out there is beautiful. It felt good to get out there. Everything I can do is a small victory. The CIBC Run for the Cure was a little more than a small victory, that was a big victory."
Today, Bobbi Jo keeps herself busy by finding new hobbies, including taking up piano lessons, bird watching and photography. She continues to live her life with the hope that one day, there will be a cure.
This Fall, join us to make a real difference for people like Bobbi Jo. When you run for one, you run for all. To learn more about the CIBC Run for the Cure visit cibcrunforthecure.com.