Team rallies together to ditch alcohol and support the cancer cause
Three Dry Feb participants share their experience going alcohol-free for a month in support of Canadians affected by cancer.
4 min. read
Drinking any type or amount of alcohol increases your risk of developing cancer. The good news is, the less alcohol you drink, the more you reduce your risk. In fact, limiting or giving up alcohol can have health benefits like increased energy levels, sleeping better or weight loss.
While reducing your alcohol intake may seem challenging, it's possible. Each year, thousands of Canadians across the country join Dry Feb and go alcohol-free during the month of February while raising funds for the Canadian Cancer Society. Three participants – Doug, Ben and Vanessa – share their experiences!
Meet Doug: forming Team AVEVA and making deeper connections through shared experiences @(Model.HeadingTag)>
In February 2021, after feeling like they had overindulged over the holidays, Doug and his wife wanted to improve their health and get motivated for the new year. They discovered Dry Feb and once Doug saw the event was in support of the Canadian Cancer Society, it made him want to participate even more.
"For me and my wife, the cancer cause is close to our hearts," shares Doug. "Both our mothers died of cancer, and my wife's sister passed away from leukemia at 8 years old. So, participating in Dry Feb has a personal meaning for us."
Recognizing an opportunity to get more people involved in Dry Feb, Doug brought the possibility of forming a team of participants to the company he works for, AVEVA, as a way for employees to give back. Doug's plan gained support at his Calgary office, so he expanded his idea for a Dry Feb team to the Toronto and Montreal offices as well. Eventually, a team of 25 people who decided to go dry was formed!
To keep people motivated, Doug gave weekly updates on the team's progress and held virtual celebratory events like mocktail parties. In the end, they raised an incredible $15,000! For Doug, his favourite part of Dry Feb was forming deeper connections with his colleagues as they came together to support an important cause.
"Quite a few people shared how they had been affected by cancer – that was really touching," shares Doug. "It always feels good to give back, but seeing the connections we made within the organization during Dry Feb was a highlight for me."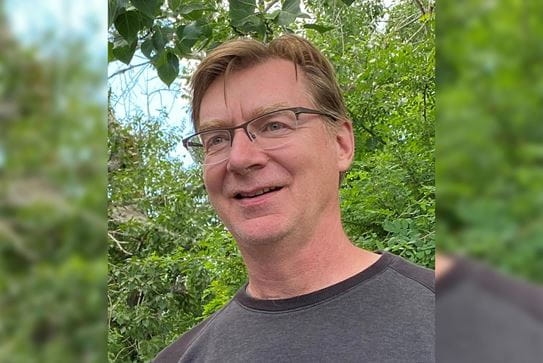 Meet Ben: honouring his loved ones and uniting his teammates @(Model.HeadingTag)>
Several of Ben's loved ones had been affected by cancer – including his mother-in-law who was diagnosed with leukemia last year. When he learned that AVEVA was forming a team for Dry Feb, he thought it would be a great way to raise money for a cause that was close to his heart.
"The cancer my mother-in-law was diagnosed with would have been terminal 20 years ago – but it's very treatable now," shares Ben. "Fundraisers like Dry Feb are so important because they contribute to these advances in cancer research."
During Dry Feb, Ben found that the competitiveness amongst the team members made the experience more positive and lighthearted for everyone and pushed them further towards their goals.
"It was fun to compete to see who could raise the most money, and there was a lot of camaraderie with the team – which was great given the timing of the pandemic," shares Ben. "With everybody working from home, Dry Feb was a really nice social activity."
Because he went dry for a month, Ben noticed he had lost weight, was sleeping better and was even doing technical tasks at work more quickly and easily! For anyone considering joining Dry Feb, he shares a few tips to help stay on track towards their goals.
"Figure out ahead of time what you're going to substitute for alcohol, such as exercise, a new hobby or a different drink like tea," shares Ben. "Dry Feb is an excellent way to explore your own relationship with alcohol while raising money for a good cause."
Meet Vanessa: opening the discussion about going dry @(Model.HeadingTag)>
For Vanessa, participating in Dry Feb was a way for her to make some healthy lifestyle changes while supporting other families affected by cancer. But when she started the challenge, she didn't anticipate that her choice to go alcohol-free would inspire others to get involved too.
"Dry Feb gave me an opportunity to open up a discussion with my friends and family about why I was going dry," shares Vanessa. "I found that talking about my motivations for joining and why the cancer cause is so important to me really inspired people to get involved and donate."
While Vanessa acknowledges that it can be challenging to stay dry and push yourself towards your goal, she says it's important to remember that no one is perfect and it's normal to feel tempted or give in. What matters is not getting discouraged and focusing on the impact that you can create by participating in Dry Feb.
"It's important to think about why you're doing it – that it's not just about going without a drink for a month," shares Vanessa. "There's a much bigger reason why we all do this."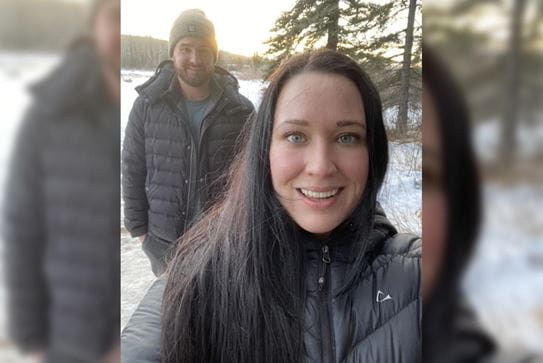 ---
Inspired by Doug, Ben and Vanessa? Sign up for Dry Feb and show your support for those who have been affected by cancer across Canada. The health benefits you can experience while going dry don't have to stop at the end of February either! Hosting mocktail parties, setting reasonable goals for yourself and finding new social activities that take the focus off alcohol are simple things we can continue doing all year to limit the amount we drink and reduce our risk of cancer.