In memory of Tali: Ending childhood brain cancer
After Tali passed away from a rare form of childhood brain cancer, her family vowed to advocate for cancer research in her memory.
2 min. read
In many aspects, Tali was a regular toddler. She was energetic, playful, curious and more than anything she brought joy to her parents, Kim and Ori. In the summer of 2006, Tali's parents noticed a change in her health. After undergoing medical testing, Tali was diagnosed with a rare form of brain cancer called ATRT (atypical teratoid rhabdoid tumour). Though Kim and Ori knew the days ahead would be challenging, they remained hopeful and kept Tali's spirits high.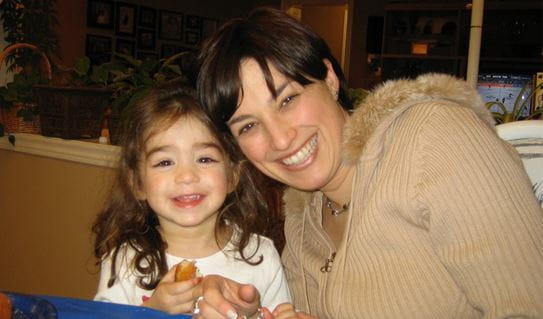 Due to the rarity of ATRT, universally effective treatments are limited but things began to look up after Tali spent five months completing treatment. Unfortunately, she relapsed in the summer of 2007 and passed away.
In memory of Tali @(Model.HeadingTag)>
After Tali's passing, Kim and Ori wanted to share their story to give strength, inspire and above all, give hope to families facing a cancer diagnosis.
That's when they decided to raise funds to support cancer research that would make a difference; research like Dr Annie Huang's. "If there's anything we can do to prevent other families from facing what we experienced, we want to do it," says Kim.
A future of hope @(Model.HeadingTag)>
Today, Dr Huang and her team are working on discovering new drugs and more specific diagnostic tests that will enable more precise and less toxic treatment for children with ATRTs.
"We are seeing progress as a result of Dr Annie Huang's research," Kim shares. Thanks to funding for groundbreaking cancer research and support from families like Tali's, there are now more treatment options available for children with ATRTs.
"The research has enabled us to see positive things come out of our devastating experience of losing a child to cancer," says Kim.
A force-for-life in the face of cancer @(Model.HeadingTag)>
It has been over a decade since Tali's passing but her memory still lives on.
Tali's family continues to passionately advocate and fundraise for research on childhood brain cancer, "By raising funds for research, we are helping to bring about change," says Kim.
When we raise awareness and support groundbreaking research, we can uplift one another, celebrate and remember those who live and have lived in the face of cancer, and create a world where no Canadian fears cancer.
"You might think that as an individual you can't have much of an impact. But individual acts, when put together with others, can make a huge difference," says Kim.
Join the Canadian Cancer Society and families like Tali's in supporting breakthrough cancer research and compassionate support services for those living with cancer.