"I am more than cancer" – How one woman found hope when faced with cancer
When Bonnie's husband had cancer, she became his caregiver. Years later, she faced her own diagnosis. See how the Canadian Cancer Society was there to help.
3 min. read
In 2008, a week before their wedding, Bonnie and her soon-to-be husband, Ben, found out he had cancer. She quickly went from bride to caregiver. As Ben faced each new stage of the cancer journey, Bonnie was right there with him.
While she supported him through his experience, life carried on. They had children. Bonnie started her own business. But years after Ben's diagnosis, Bonnie faced a cancer diagnosis of her own.
Bonnie shares how she found hope and strength as their family faced cancer a second time, and how the Canadian Cancer Society was there to help.
Bonnie's story @(Model.HeadingTag)>
Becoming a caregiver @(Model.HeadingTag)>
Caring for someone with cancer
is a big job and can mean taking on many new responsibilities. It can be a challenge at times too. That's why the Canadian Cancer Society is here to help people affected by cancer and their loved ones. We offer a support system – compassionate services and programs – like our lodges, which provide a home away from home for patients who need to travel outside their communities for treatment.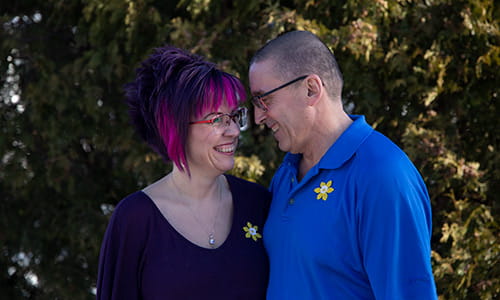 "Ben needed daily treatment that was a two-hour drive away," shares Bonnie. "Thankfully, we discovered he could stay at a Canadian Cancer Society lodge during his treatment. It is an incredibly welcoming place for anyone who's been touched by cancer. As a caregiver, it was helpful to have this support program available to ease up the burden."
Seeing the care Ben received and knowing his success story, Bonnie had a strong source of inspiration and hope when she began her own cancer journey years later.
"When I first heard the words, 'you have cancer', I wasn't as afraid as you might think," reveals Bonnie. "Remembering the caring support Ben received at the lodge gave me great peace of mind when I got my diagnosis."
Facing breast cancer  @(Model.HeadingTag)>
At 49 years old, Bonnie discovered a lump in her breast. After visiting her doctor, she learned she had stage 2 breast cancer and would need breast-conserving surgery (sometimes called a lumpectomy), followed by weeks of radiation.
Like Ben, Bonnie required daily treatment two-hours away, so she turned to our lodge for a safe and restful place to stay near the treatment centre.
More than a place to call home, our lodges provide comfort during a difficult time through home-cooked meals, activities like yoga and movie nights, and most importantly, the chance to connect with others going through similar experiences.
"One of the best things about being at the lodge is the support of other people. I met some people that I know I am going to remember forever," says Bonnie.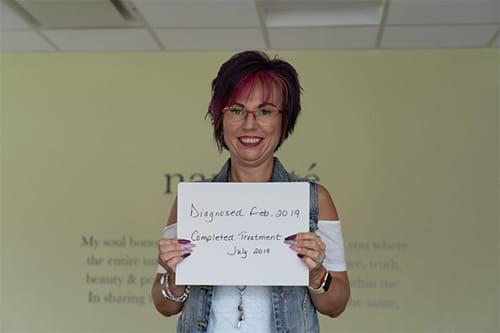 Living life to the fullest @(Model.HeadingTag)>
Bonnie completed treatment in July of 2019. Today, Bonnie and Ben are living their lives to the fullest – beyond cancer.
After seeing the impact of cancer on her family twice, Bonnie understands how a cancer diagnosis can change everything. But she believes – like we do – that it doesn't have to define who you are or your loved ones.
"When you receive your diagnosis, it very quickly becomes one of the most important parts of your life, but it doesn't define you. I am more than cancer. I'm a wife, a mother, a business owner. I'm a friend. I'm a community member."
---
Every day, the Canadian Cancer Society is here to help people like Bonnie. We understand that the words, "you have cancer", can change everything. But we know it doesn't have to define who we are. Because life is bigger than we have. It's about who we're with. The ones we love. And the things we love to do. Life is bigger than cancer.
Show your support during our Daffodil Campaign this spring and rally behind this powerful symbol. When daffodils bloom, hope grows. Join us and you're not only supporting life-changing programs and groundbreaking research – you are an enduring reminder that life is bigger than cancer.