Your donations are fuelling a ground-breaking new study that uses tiny, lab-grown tumours to pinpoint the most effective cancer treatment.
1 min. read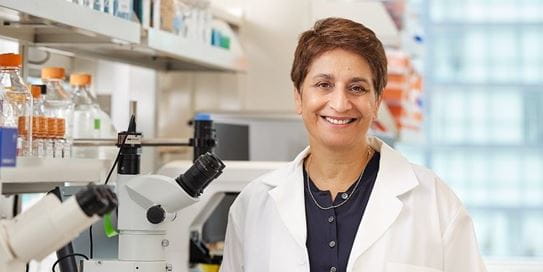 Did you know that organs can be grown in labs to help test new cancer treatments? Thanks to your support, Canadian Cancer Society (CCS)-funded researcher Dr Rama Khokha and her team are doing just that. They're using tiny, lab-grown pancreatic tumours developed from patients' tumour samples to pioneer new treatments for pancreatic cancer – a highly aggressive and hard-to-treat disease.
Through this, Dr Khokha and her team hope to better understand a tumour's microenvironment, allowing them to test potential treatments. Once the lab-grown tumour responds positively to a treatment, the successful therapy can then be applied to real-life patients – improving their outcomes.
"Cancer is one of the biggest challenges in medicine," says Dr Khokha. "With your support, I'm proud to be developing new paths to cancer treatment, as well as training a stream of highly qualified next-gen researchers."