With just a phone call, women like Sharon are able to find answers when they need them most.
1 min. read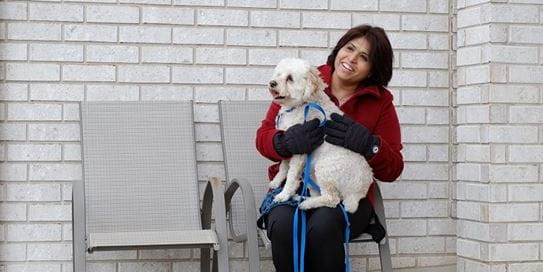 When Sharon Sandhawalia was diagnosed with breast cancer, she thought she knew what to expect: a few months of treatment, and then complete recovery. But to Sharon's surprise, her treatment took a very different turn.
Not only did Sharon undergo a mastectomy, she also had to go through several grueling rounds of chemotherapy and radiation – leaving her with blisters, burns, and bone pain. Stressed and overwhelmed, she wondered – as many cancer patients do – if what she was experiencing was normal.
Thankfully, Sharon learned about the Canadian Cancer Society (CCS)'s Cancer Information Helpline, a national, toll-free service where people who have questions or concerns about cancer can find reliable information and trusted support. Here, Sharon was able to learn about her options for breast reconstruction – and was also referred to CCS's peer support program, which matched her with other women who had undergone similar experiences.
"I really wanted to take charge of my health and make informed decisions," says Sharon. "With the Cancer Information Helpline, I feel like I can ask anything and get accurate answers."
Your support allows women like Sharon to find answers when they need them most – ensuring no one faces cancer alone.

If you have cancer, we can help. Call the Cancer Information Helpline at 1‑888‑939‑3333. Your call is free and confidential, and you can call as often as you like – and talk for as long as you need.