When Harland needed a place to stay to get treatment, your support made it possible
2 min. read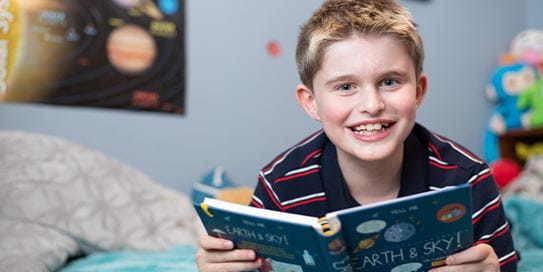 Every parent knows how stressful it can be when your child is sick. But when Harland's parents noticed his symptoms were evolving beyond the typical cold or flu — and were affecting his behaviour and cognition — they began to grow very, very worried.
Harland and his parents were referred to the nearest neurologist — five hours away — where Harland was diagnosed with brain cancer. The diagnosis was difficult, but the family soon learned just how difficult the treatment journey would be. In addition to surgery, Harland would need six weeks of radiation and chemotherapy treatments — also five hours from home.
Driving back and forth for hours every day for six weeks was unthinkable. So when they learned of the Canadian Cancer Society (CCS)'s Lodge, an affordable and welcoming home for people who must travel a significant distance for cancer treatment, they knew they'd found a solution. Once Harland and his family arrived at the lodge, they knew they'd also found a home away from home.
Here, Harland and his family could stay in a comfortable place that also offered the company of others and a variety of activities so Harland could forget about treatment for a few hours. He enjoyed drawing and painting pictures in the lodge's craft and games room — and even left a collection of his artwork on display for others to enjoy. He was able to hang out with his parents in the common room, and enjoy snacking on the extra treats the chefs would save just for him.
Harland is just one of many who find comfort and friendship at one of CCS's lodges in times of need — all thanks to dedicated donors like you.
"I would like to say a huge thank you to people who donate to CCS," says Janet, Harland's mother. "You have no idea the impact that you make for families like ours."