With your support, Dr Addison is developing an innovative new test that detects breast cancer more accurately.
1 min. read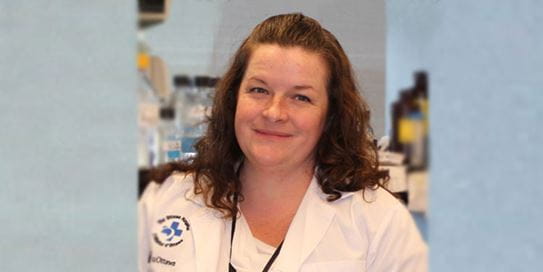 Early diagnosis is key to effectively treating breast cancer and increasing chances of survival. When caught early enough, the disease has a 5-year survival rate of 99%. But by the time it has spread to distant parts of the body, that survival rate drops to just 29%.
Unfortunately, some current diagnostic imaging methods are unable to reliably detect cancer in its early stages. Dyes injected into the body to help scanners detect breast cancer cells don't find up to 50% of breast cancers, which means some cancers are missed.
That's why your support is so important. With funding made possible by CCS donors like you, Dr Christina Addison and Dr Adam Shuhendler are developing a new dye based on fructose – a sugar found in fruits and vegetables. Recent research has shown that fructose can be used by breast cancer cells as an energy source, meaning this revolutionary new test has the potential to find breast cancer cells more accurately. If the dye is successful, it will improve the reliability and accuracy of breast cancer detection, leading to more people being diagnosed at an earlier stage and more people surviving breast cancer across Canada.
"It doesn't matter how many great ideas we have, we would not be able to test these ideas or develop new treatments to be tested in patients without donor funding," says Dr Addison. "Thank you."