Meet 2 volunteers who share why they enjoy providing support and comfort
Denise and Bob, who have worked in the wig services and for Wheels of Hope, share what motivates them to support the cancer cause.
2 min. read
Volunteering at the Canadian Cancer Society can be a wonderful opportunity to empathize with others on vastly different journeys as you celebrate moments of joy, support and successes together.
We're shining a light on Denise and Bob, who have brought incredible commitment and positivity to their time with CCS. We hope they will inspire others to support the cancer cause and continue bringing hope to those who need it the most.
Meet Denise: Sharing joy and offering comfort for people on cancer journeys @(Model.HeadingTag)>
Denise has volunteered in the wig room of the Montreal Lodge since March 2018, where she helps complete requests and make choices for clients.
Over the years, people on cancer journeys have been overwhelmed by the warmth and care Denise has brought them. And for Denise, she has been left with many wonderful moments to look back on. "One of my best memories is the reaction of a lady on the phone who was shouting with joy because she was so satisfied and happy. That moment will stay with me for a long time."
She is proud that she can be an empathetic presence and provide encouragement and comfort to people in need. She has since recruited three other volunteers and would recommend the experience to anyone.
"Working with other kind and compassionate team members makes the environment here very pleasant. I enjoy coming back to do my volunteer work because it makes me feel better as a person."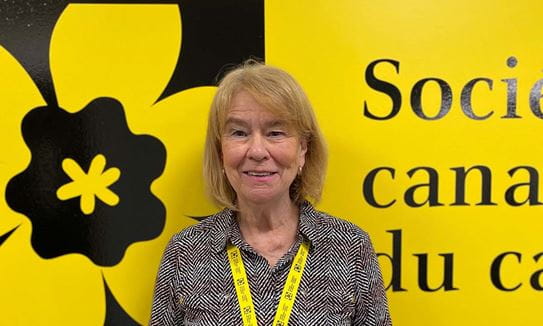 Meet Bob: Growing every day and looking forward to tomorrow @(Model.HeadingTag)>
Throughout the 1980's, Bob drove his classic convertible up and down University Avenue and Yonge Street when he participated in the annual Daffodil Parade. When the parade was cancelled however, he felt lost without any volunteering duties and decided to learn how else he could get involved with CCS.
Bob applied to be a driver for Wheels of Hope, a program where volunteers help ensure that cancer patients have safe and reliable transportation to their appointments. He discovered it was the perfect role for him, and now, he is excited to get out of bed every day to give out acts of kindness to people who need them.
Bob hopes there are many other people interested in driving for Wheels of Hope because being able to connect with clients has been very rewarding for him. "My advice is to watch the people you drive — because you might meet someone who will change your outlook on life. Without the Wheels of Hope program, I don't know how different I would be today. It keeps me growing and looking forward to tomorrow."
Inspired by Denise and Bob? By volunteering with the Canadian Cancer Society, you can help someone on their cancer journey through small acts of kindness, make meaningful connections and create a future where no one needs to fear cancer.