"To show support for others" – Volunteers share why the cancer cause is close to their hearts
From supporting cancer prevention and education programs, to rallying communities together for Relay For Life, we're showcasing some of our volunteers and why the cancer cause is close to their hearts.
4 min. read
Volunteers are at the heart of what we do at the Canadian Cancer Society. With the passion, commitment, support and skills of thousands of volunteers across the country, we can be there for Canadians affected by cancer at every stage of the journey.
In celebration of our volunteers and the impact they make, we're shining a spotlight on Rachel, Rozina, Diya and Sibtain. See why the cancer cause is close to their hearts and how together with our nationwide community of volunteers, we are bigger than cancer.
Meet Rachel: Finding growth and honouring loved ones @(Model.HeadingTag)>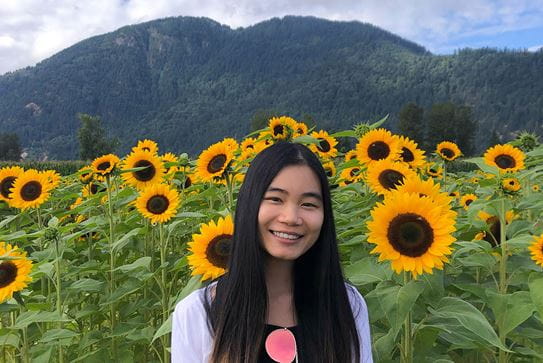 In 2017, Rachel began her journey as a volunteer with the Canadian Cancer Society. Over the years, she has shared her skills with us in many ways – serving as the welcoming face at the front desk of one of our community offices and helping our teams organize fundraising events, like the Daffodil Dash in Vancouver.
Today, she's involved with our Healthy Workplaces initiative, one of our cancer prevention programs, which has provided her with the opportunity to grow her own skills as an aspiring public health practitioner.
"The Canadian Cancer Society has been an incredibly supportive environment for my personal and professional growth," shares Rachel. "My continued involvement is a way for me to honour loved ones in my life who've faced cancer and to show support for others affected in the community."
Meet Diya and Rozina: Supporting and empowering South Asian women @(Model.HeadingTag)>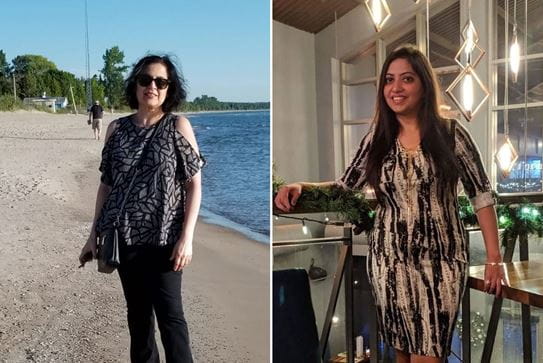 We know about 4 in 10 cancer cases can be prevented through healthy living and policies that protect the health of Canadians. However, at the Canadian Cancer Society, we also understand that making healthy behaviour changes can be difficult to achieve alone. That's why we are working in partnership with the Peter Gilgan Foundation, Women's College Hospital Foundation and the Public Health Agency of Canada on a health promotion program, BETTER Women, that supports women aged 40-65 to take control of their health so they can prevent chronic disease, including cancer.
Through this, we're training volunteer peer health coaches to be there for other women on their way to a healthier lifestyle. With a focus on supporting the South Asian community, this summer 15 women completed their training to be the first-ever cohort of South Asian Peer Health Coaches – which included Diya and Rozina.
As someone who has personally overcome her own health and well-being challenges, Diya knows first-hand how valuable a program like this can be. She's already put her training into action by helping a loved one and is excited to be there for more women through this community that the volunteer coaches are building and strengthening together.
"As a volunteer, you're not just giving yourself, you're getting so much more," shares Diya. "It's a chance to work with, support and encourage people."
For Rozina, as a healthcare professional, disease prevention is an issue she's passionate about. With her extensive experience in different areas of healthcare – including clinical, managerial, wellness, quality improvement, and research – and a strong personal value for volunteerism, Rozina found the perfect fit as a volunteer peer health coach. She believes in the far-reaching impact that she and other volunteers can have on the lives of those they reach – and we couldn't agree more!
"From your one act of kindness, one act of volunteering or one suggestion you share, perhaps one single person will benefit. But, it won't only benefit that one person – their entire family will also feel the benefit," says Rozina. "It's like you're spreading your one act of volunteering to their community, family and friends."
Meet Sibtain: Uniting people to honour those affected by cancer @(Model.HeadingTag)>
Through the Canadian Cancer Society Relay For Life, communities come together for an event that celebrates and honours those affected by cancer, and raises funds for world-class research and a nationwide support system. While we've transformed Relay For Life into a virtual experience these past 2 years, we're excited to begin planning for safe, in-person events in 2022. To bring our Relay events to life, we're looking for passionate people, like Sibtain!
With nearly half of Canadians expected to be diagnosed with cancer in their lifetime, Sibtain knows he's not alone in experiencing the impact of cancer on loved ones. By bringing people together to Relay in support the cancer cause, he's helping us spread hope in his community – and beyond!
"I am part of a movement that celebrates individuals who represent resilience, strength and courage," shares Sibtain. "Cancer has affected the lives of so many around me, and I know that I'm not alone in saying that. So, to be part of something that highlights the hopefulness in such trying situations is a beautiful thing."
---
Inspired by these incredible people? You can give back and make a difference as a volunteer too! Join us and together, we can be a force-for-life in the face of cancer.