Finding connection and raising awareness: Roy's story about prostate cancer
When Roy was faced with prostate cancer, he found information and support to help him cope. Learn more about his story and how he's raising awareness through Plaid for Dad.
2 min. read
Prostate cancer is the most commonly diagnosed cancer among Canadian men. 1 in 9 Canadian men will hear the words, "you have prostate cancer," in their lifetime – and for Roy, those words came when he was 53 years old.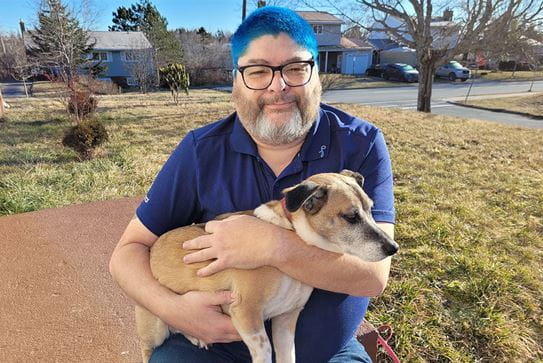 Roy's story @(Model.HeadingTag)>
In the face of his cancer diagnosis, Roy was determined to approach his journey with positivity. However, when he was told the cancer had metastasized (spread to other parts of the body), he couldn't help but feel fear.
"After I was first told I had cancer, I told my kids that it was no big deal, that they could do surgery or radiation therapy," shared Roy. "Then, I had to tell them it was advanced, and that hit me pretty hard, I have to admit."
Beyond his family, Roy was hesitant to share the news of his diagnosis, initially keeping his extended circle small with just very close friends. For Roy and many others faced with a diagnosis, talking about cancer isn't easy. It can be hard to know what to say and to predict how others will react.
But we know it can be good to talk. It can help you understand your own emotions and feel more in control. It can make your relationships stronger and help people understand what you're going through. It can also be an important first step to getting support – just like it was for Roy.
As Roy learned more about his diagnosis, he turned to the Canadian Cancer Society website and a local prostate cancer support group. Feeling informed and with a peer support group to talk to, Roy opened up and has since become a passionate advocate for prostate cancer awareness.
Providing support to others @(Model.HeadingTag)>
Determined to share his story, Roy turned to the Canadian Cancer Society's nationwide support system and discovered a way to connect with people who needed the same support he found so helpful on his journey. This is when he came across our online community, CancerConnection.ca.
"I read about CancerConnection.ca and saw that it had all these online groups and discussions for all different types of cancer. There was one for prostate cancer, one for men only, another for advanced cancer," shared Roy. "I immediately created a profile and sent it in, and since then, whenever there's a new member with prostate cancer they're pointed my way. I've done that 4 or 5 times now, answered questions about prostate cancer from someone new."
Sharing his passion for prostate cancer awareness @(Model.HeadingTag)>
In addition to providing support to fellow people with prostate cancer through the online community, Roy finds creative ways to spread awareness. Whether it's participating in prostate cancer fundraising or dying his hair blue in September for Prostate Cancer Awareness Month, Roy passionately gives back to make a difference for others.
"I dye my hair blue to raise awareness about prostate cancer," shares Roy. "It's become my trademark."
His blue hair has become a bright signal to let those affected by prostate cancer know that they're not alone. By speaking up and taking action, Roy motivates people in his community – and beyond – to support the prostate cancer cause.
Inspired by Roy? Get involved with the Canadian Cancer Society this September for Prostate Cancer Awareness Month. With your support, we can fund the most promising prostate cancer research and life-changing programs.
Together, we can create a world where no one fears prostate cancer.