A woman living with cancer shares her story
Diagnosed with cancer 17 years ago, Yaslyma was told she only had 6 months to live. She shares how research and our support programs gave her hope.
3 min. read
Hearing the words, "you have cancer", can change everything. But it doesn't have to define who you are. Because life is bigger than your diagnosis. Bigger than chemo. The surgeries. And the scars. Life is not about what you have. It's about what you do and who you're with. Because life doesn't have to stop when you have cancer. We believe that life is bigger than cancer.
Every day in our work across the country, we help Canadians living with cancer see beyond their diagnosis and continue to live their lives with love, joy and hope. Meet Yaslyma to learn how she has been living her life to the fullest – with cancer – over the last 17 years.
Yaslyma shares her story  @(Model.HeadingTag)>
When Yaslyma was diagnosed with neuroendocrine cancer, a rare type of tumor, located in her pancreas, colon and liver, she was given only a few months to live – six at most. She was told she would need surgery immediately, but the chances for survival were low.
During this difficult time, Yaslyma couldn't even imagine how it would be possible to hang on to hope.
"Those early months were so difficult for me and my family," shared Yaslyma. "It was upsetting for all my children to see me so ill – my youngest was only 13 at the time. And it was so painful for me to see the impact my diagnosis had on the people I loved."
Finding hope @(Model.HeadingTag)>
Yaslyma found hope again when her oncologist contacted her about a clinical trial that could save her life. The clinical trial was in a different city, but she was able to turn to the Canadian Cancer Society's transportation service to get to and from those life-saving treatments.
"I'll never forget the kindness and compassion of the volunteer drivers," shared Yaslyma. "Some of the drivers had cancer and they know what you're going through, and so they're more than just a driver – they're peer support. They're a best friend."
Sharing hope with others @(Model.HeadingTag)>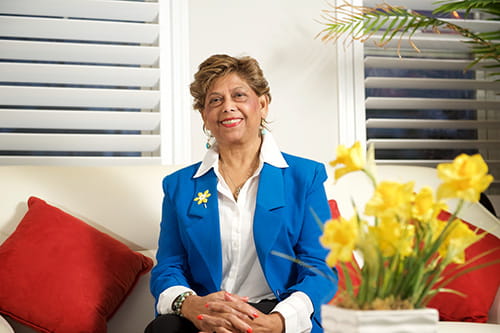 Since her diagnosis 17 years ago, Yaslyma has raised four children – her youngest is now a nurse – and celebrated the birth of two grandchildren! Because of innovative research and groundbreaking progress made in treatments, Yaslyma is still here.
Inspired by the impact that our transportation service had on her own cancer journey, she became a volunteer with our Peer Match Program, a confidential support service available across the country that connects people affected by cancer or their loved ones with someone who's been through a similar experience.
"I've given my time as a volunteer to the Canadian Cancer Society's peer support program and met many wonderful people – and learned that giving hope to others keeps me feeling alive and finding my purpose," shared Yaslyma.
"I've also learned the while cancer may be in you, it doesn't have to define you. I can still live with cancer, and I can give hope."
You can spread hope too @(Model.HeadingTag)>
Like Yaslyma, you can provide hope to others affected by cancer in your community and in communities across the country. Show your support by making a donation that will help fund game-changing research and compassionate support programs and services, so no one has to face cancer alone.
Together, we can create a world where no Canadian fears cancer.