4 breast cancer survivors share their stories to help others
1 in 8 Canadian women will be diagnosed with breast cancer in their lifetime. Meet 4 breast cancer survivors and learn about their experiences.
6 min. read
Breast cancer is the most common cancer among Canadian women.
In fact, 1 in 8 women in Canada are expected to be diagnosed with breast cancer in their lifetime. These are our loved ones, friends, neighbours and coworkers.
Hearing the words "you have breast cancer" changes the lives of thousands of women every year – women like Nadia, Sharon, Kimberley and Anjum. Learn more about the personal and unique experiences of these 4 breast cancer survivors as they open up to help raise awareness and support others on a similar journey.
Nadia: Building connection through our online community @(Model.HeadingTag)>
When 30-year-old Nadia discovered a lump in her breast, she didn't panic right away. She knew that lumps could develop at her age but decided to see a doctor to be sure. After undergoing an initial biopsy, she was told that cancerous cells had been found, and a few days later she received the shocking news that she had breast cancer.
To navigate this difficult time in her life, Nadia turned to CancerConnection.ca, Canadian Cancer Society's online community where people affected by cancer and caregivers can share their experiences and build supportive relationships with others who've been there. People living with all types of cancer can join the community and take part in discussions, exchange messages and share helpful information.
Through CancerConnection, Nadia shared her story and found support from others on their own breast cancer journeys who knew what she was going through.
"Being able to talk with others who had gone through similar experiences was comforting," shares Nadia. "Sharing positive, funny anecdotes really helped me. It was amazing to be part of a forum where people affected by cancer could just be themselves."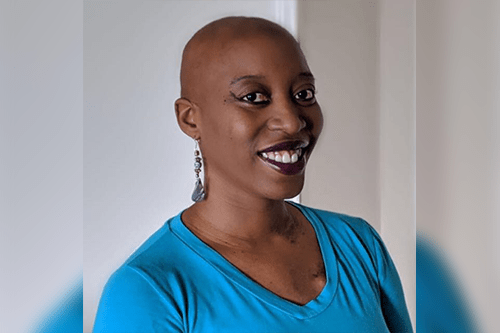 Sharon: Finding trusted information and support @(Model.HeadingTag)>
When Sharon was diagnosed with breast cancer, she was hopeful and anticipated a few months of treatment and an immediate recovery. But she soon found that treatment was more challenging than she had anticipated – in addition to undergoing a mastectomy (a surgery to remove all of the breast), she had bone pain from chemotherapy, and radiation gave her blisters and burns.
While her healthcare team helped her manage the physical side effects, Sharon knew that she needed emotional support – so she turned to our Cancer Information Helpline, our national, toll-free nationwide service available to people affected by cancer, caregivers, families and friends, and healthcare professionals. By phone or live chat on our website, our information specialists are available to answer questions about more than 100 types of cancer, as well as provide information about prevention, treatment and side effects, coping with cancer, emotional support services and more.
Sharon was given answers to questions about her breast reconstruction options and joined a survivors' group so that she could connect with others who have been affected by breast cancer.
"During my cancer journey, I wanted to take charge of my health and make informed decisions, which is why I contacted the Cancer Information Helpline" says Sharon. "I would tell anyone facing cancer that you don't have to face the unknown alone – the Canadian Cancer Society is there to provide information and support."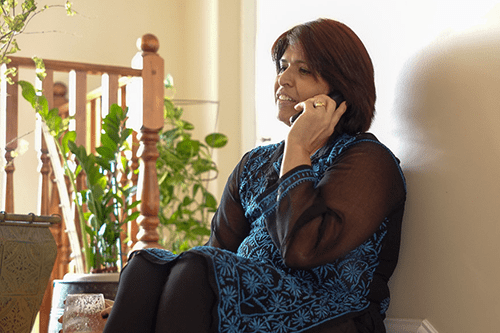 Kimberley: Spreading awareness among young people @(Model.HeadingTag)>
When Kimberley found a lump in her right breast in 2005, she was hesitant about going to the doctor to get it checked out. She was only 24 years old, and 6 months earlier, had found a lump in her left breast that had turned out to be benign (not cancerous). But wanting to have peace of mind, she visited her doctor who sent her for an ultrasound.
"At this point, I didn't think cancer was even a possibility," shares Kimberley. "As I walked past the mammography waiting room, there wasn't one person my age – everyone was much older. I didn't feel afraid, I figured the mammogram was a precaution."
After her mammogram, Kimberley learned that the results showed possible malignancy for cancer, but the lump was likely benign due to her age. To be sure, Kimberley underwent a core biopsy. A week later, Kimberley's doctor phoned her to tell her something she never thought she'd hear – she had cancer.
"I just immediately started sobbing," shares Kimberley. "I remember feeling shocked and very panicked. There was so much more I wanted to do in life, and now I was worried I wouldn't get to do any of it."
After having the cancerous lump removed, Kimberley needed additional treatment since the cancer had spread to her lymph nodes. She received chemotherapy, radiation, and continued to take medication for 5 years after her diagnosis. It's been a long journey but today, Kimberley is cancer-free. She continues to get yearly mammograms and encourages other young people to know their body and get changes checked out with a doctor.
"I want to share my story to raise awareness about breast cancer in young people."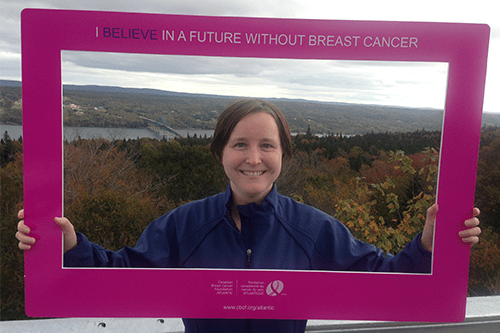 Anjum: Passionate about educating women about early detection @(Model.HeadingTag)>
Screening tests can help find breast cancer before any symptoms develop. When breast cancer is found and treated early, the chances of successful treatment are better. For Anjum, she knows just how important breast cancer screening can be – it saved her life.
At 50 years old, Anjum went for her annual physical, her doctor recommended that she get screened for breast cancer. The results of Anjum's mammogram showed that she had breast cancer, but luckily, they had caught it before it developed to stage 1. After undergoing surgery, radiotherapy and radiation, Anjum was given the good news that she was cancer-free.
After her breast cancer journey, Anjum became passionate about educating women about early detection. But her own diagnosis was not the only reason why she was inspired to share the importance of getting screened. In her home country of Pakistan, Anjum had lost a friend to cancer who had been experiencing symptoms but didn't feel comfortable getting tested.
"In my culture there's a general feeling of shyness when it comes to health. People are scared to get checked because they're worried that their doctor might find something wrong," shares Anjum. "If I didn't get a mammogram, my cancer could have been much worse, or it may not have been caught at all."
Now, Anjum encourages others to learn about breast cancer screening. She hopes that by empowering women to take control of their health, more cases can be caught earlier, and more lives can be saved.
"My breast cancer was caught so early that I was able to recover very quickly. Getting screened is what saved me."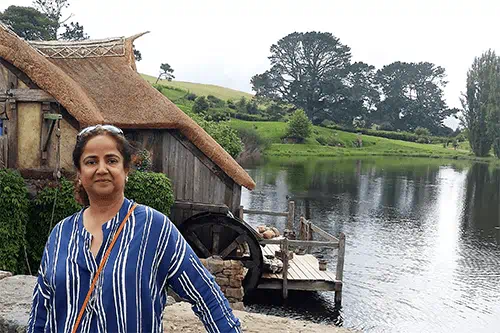 We now know more than ever before about detecting, diagnosing and treating breast cancer – but there's more to be done to make a difference in the lives of Canadians affected by cancer, like Nadia, Sharon, Kimberley and Anjum. This October for Breast Cancer Awareness Month, help fund groundbreaking research so that we can continue to make progress and help ensure that those living with or beyond breast cancer get the support they need.
Together, we can create a future without breast cancer.