Meet 3 teens who are passionate about making a difference for Canadians affected by cancer
3 teens share their passion for helping Canadians affected by cancer
3 min. read
Now more than ever, we're seeing young people take a stand for issues that matter to them and become a driving force for positive change. Their enthusiasm, passion, and dedication to giving back to their communities serve as proof that you can make a mark on the world at any age.

We find so much inspiration in the youth who help champion the work that we do. Meet 3 of these amazing young Canadians and see why they're motivated to make a difference in the lives of those affected by cancer.

Anika and Eesha: United by a shared passion  @(Model.HeadingTag)>

Twin sisters, Anika and Eesha, discovered their passion for volunteering after taking part in their first Canadian Cancer Society Relay For Life – a community-based fundraising event – at their high school 3 years ago. Inspired by the meaningful impact that the event had on them as participants, the sisters joined the Relay For Life committee at their school and have been involved every year since.

"After having an amazing time at our first Relay event and seeing the impact it made at our school, we knew we had to join in on creating an unforgettable and life-changing experience for our community," share Anika and Eesha.

The sense of community is one of the reasons why Anika and Eesha love being involved with the Canadian Cancer Society. They've seen first-hand how the cancer cause can bring different people together. To them, it's all about unity.

"We always find there's one thing we all have in common: the drive to be bigger than cancer."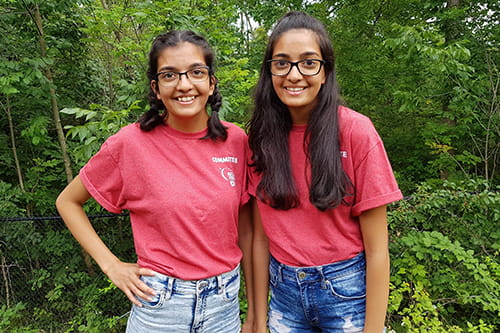 Jacob: Motivated to create change @(Model.HeadingTag)>
For Jacob, giving back through the Canadian Cancer Society is a meaningful way to turn his passion into action!

"I have always had a passion for helping others, speaking up about issues that people face every day and looking out for my community," shares Jacob.

Growing up, Jacob watched as cancer impacted his family time and time again. He has lost several loved ones to cancer, and as he entered high school, he realized many of his friends and peers were also affected by the disease.

"With cancer affecting so many people, including those in my life, I wanted to help make a difference," shares Jacob.

He decided to take action to help not only those in his community, but all Canadians across the country affected by cancer – so he turned to the Canadian Cancer Society and got involved in Relay For Life.

One of his biggest inspirations and motivations for supporting the cancer cause is his grandmother, who has faced cancer several times.

"My grandma is one of my biggest heroes. Her strength and courage are qualities that I aspire to carry with me for the rest of my life," shares Jacob. "Every day, she proves that nothing can stop an individual's ability to not only survive, but live life to the fullest."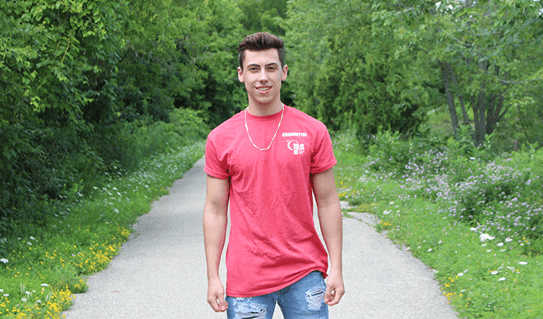 Seeing the passion that young leaders like Anika, Eesha and Jacob have for the cancer cause is an inspiration to all of us at the Canadian Cancer Society!
With nearly half of Canadians expected to be diagnosed with cancer in their lifetime, we all have a reason to care and take action. Thanks to our supporters – including an incredibly dedicated community of youth – we can continue to fund groundbreaking cancer research, provide a support system for all those affected by cancer and shape health policies to prevent cancer and support those living with the disease.

Feeling inspired by Anika, Eesha and Jacob? You can join them in making a difference for people across the country by showing your support for the cancer cause too. Together, we can create a world where no Canadian fears cancer.